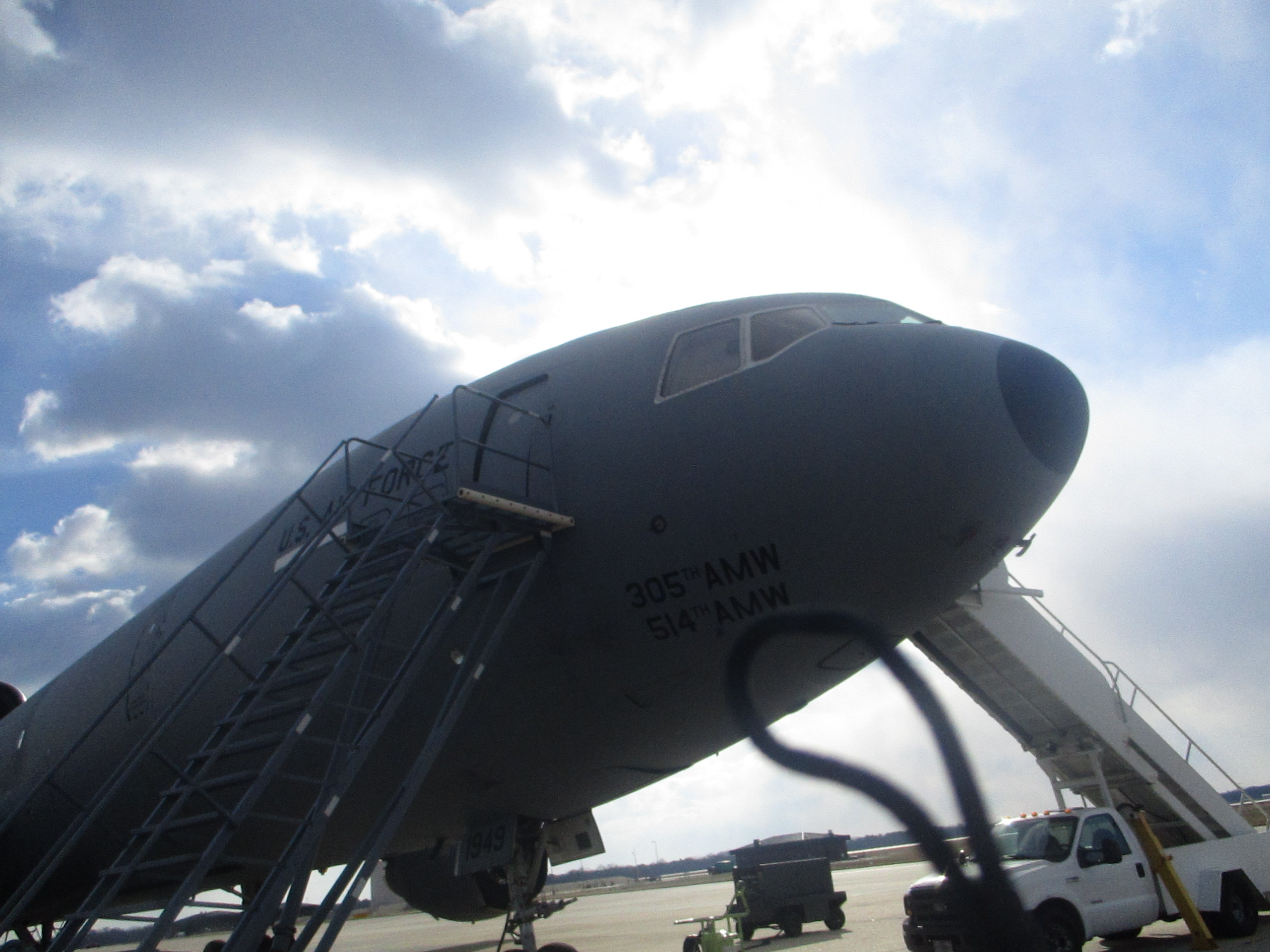 On 16 December 2016, New Dorp High School Air Force JROTC NY-20131 visited McGuire Air Force Base in New Hanover, New Jersey. Cadets toured the cockpit of a C-17 cargo aircraft and KC-10 aircraft, search and rescue helicopters operated by the United States Marine Corps, and tried on flight equipment used by military personnel during normal flight operations. Cadets also sampled MREs (meals ready to eat) used by personnel during field operations. We would like to thank the United States Air Force's 514th Aircraft Maintenance Squadron, the 714th Maintenance Squadron, the 35th Force Support Squadron, and the United States Marine Corps' 49th Marine Aircraft Group.
-C/TSgt Nicolas Moncada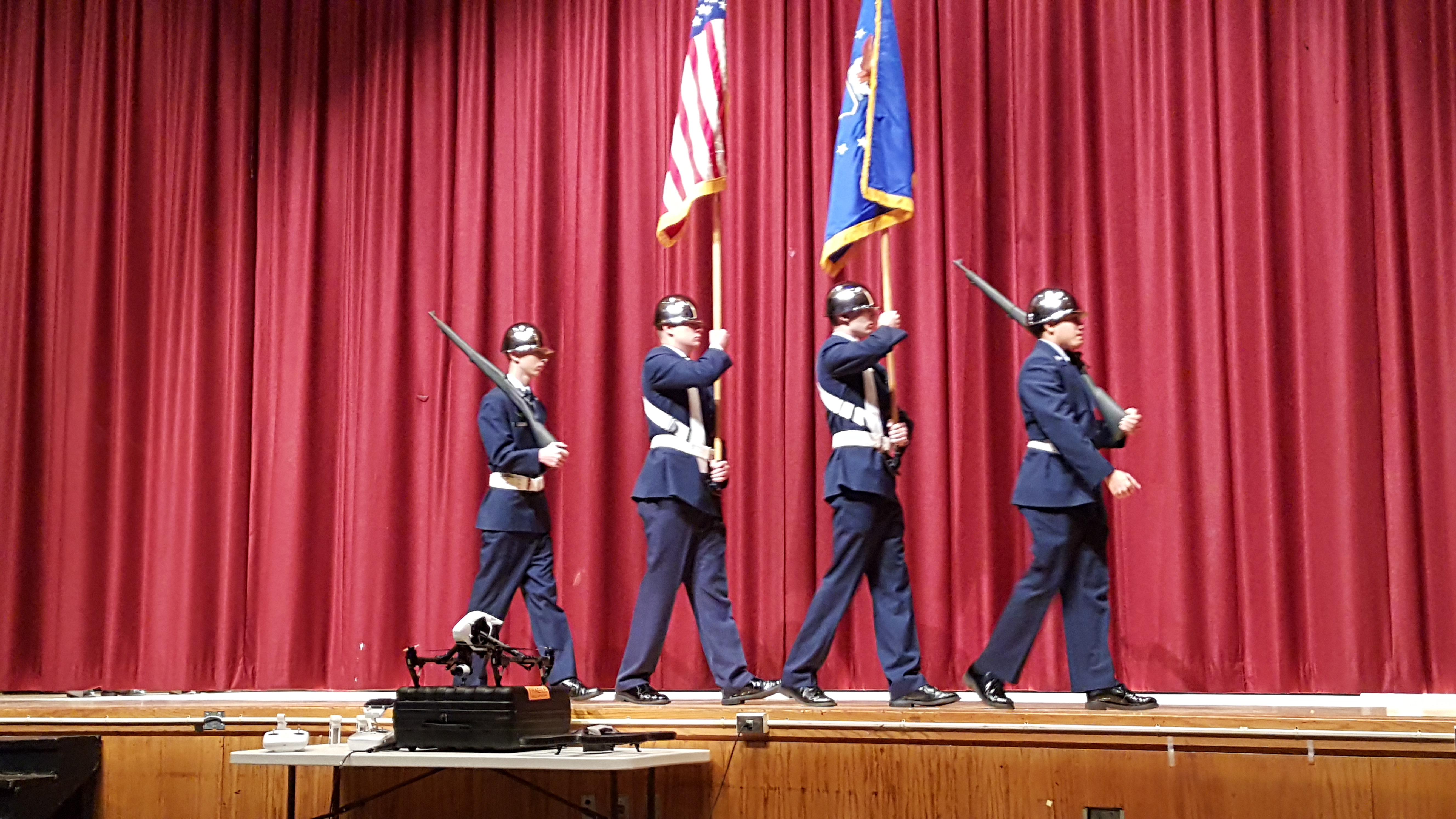 Air Force JROTC at New Dorp High School has reached an impressive milestone with over 100 cadets enrolled as of this school year! Now, more than ever, it is critical to possess professional skills and a solid record that create opportunity. Our cadets are putting up better grades, lifting weights, running longer distances faster in addition to preparing for National-level competitions and flying drones and manned aircraft.
Our corps offers a wide variety of extra-curricular activities: Physical Fitness team, Drill team, Pilot/Drone Team, Honor/Color Guard in which cadets work together to achieve high performance levels. We also have unique scholarship opportunities for the Military Service Academies to Princeton University and everything in between.
If you want to AIM HIGH and build a life of health, happiness and success, please contact Ms. Ivana Martinez, the Law Institute/Air Force JROTC Guidance Counselor at 718 667 8686 if you are already a student at New Dorp High School. If you are currently an intermediate school student, please contact Ms. Gannon at 718 667 8686 if you are interested in shadowing a current first-year cadet.
The AFJROTC is a program that teaches citizenship, self-discipline, leadership skills, and patriotism. In the classroom, our curriculum is consisted of the Aerospace Science, which includes Aviation history, Science of Flight, and Exploring Space, and Leadership Education, which includes Citizenship, Character, and Air Force Tradition, Life Skills and Career Opportunities, and Stress Management. Additionally, for students seeking careers in aviation, Aviation Honors Ground School can be taken by qualified students as the first step toward a pilot's license. Although our classes are taught in a military format and students receive Air Force uniforms, there is no military obligation when taking our elective courses. Uniforms and textbooks are provided to each student free of charge. Successful completion of three or four years of Aerospace Science prepares students for higher education or employment in the aerospace industry or military service.
Air Force Junior ROTC Goals
Instill Values Of Citizenship
Service To The United States
Personal Responsibility and Sense Of Accomplishment
Extracurricular Activities
Color Guard and Drill Teams
Kitty Hawk Air Society
Academic Bowl (SAT/ACT)
Curriculum In Action (Field Trips)
Orienteering Trips
Newsletters/website/AV squad
After-school tutoring/study groups
Model Rocketry & Radio Controlled Aircraft Clubs
Incentive flights in civilian and Civil Air Patrol (CAP) aircraft
Aviation Ground School
Survival Training
Marksmanship
Community Service Projects
Fitness competitions
Mentoring/outreach to middle schools
The military model: clear expectations, training, accountability produces self-discipline & achievement
Carrots and sticks; mostly carrots
Quality/experience/dedication of instructors
Instructors are long-term role models/mentors
Program is inclusive, provides a place for every kid
Sense of belonging for the cadets - "like a family"
Cadets belong to something bigger than themselves
1st Annual Veterans Awareness Event